Favorite South Shore Restaurants
(808 742-2216) is right at Kiahuna Plantation in the historic Moir home. A beautiful setting and a highly varied menu. There are some Italian items on the menu and many with a definite island influence. This restaurant really delivers on good food and plantation era ambiance.
Keoki's Paradise
(808 742-7534) has sort of a movie set South Pacific atmosphere, but we like it. The fish here is excellent, but they also have beef. If you want to save a bit of money, order a fish taco in the bar area. Their large desserts can be passed around the table. Entertainment is Thursday and Friday.
Tidepools
(808 742-1234) is on the lower level of the Hyatt. This is where to go for a romantic dinner out, as the thatched roof island atmosphere, on a lagoon with koi, swans, and waterfall, is perfect. We sometimes just order appetizers. The service has been friendly and helpful.
IMU Bar + Restaurant
(808 855-0000) Set amongst the manicured grounds of the Poipu Beach Athletic Club, just a short walk across Poipu Road, is the IMU Bar + Restaurant. Offering poolside food and beverage service.
The Beach House
(808 742-1424) is right out on a point at the west end of Poipu. The romantic atmosphere with ocean views is the perfect setting for their delicious Pacific Rim cuisine. If you want to watch the sunset, book an early reservation, as the best tables go first.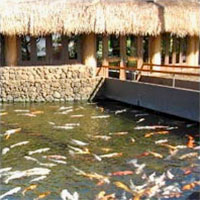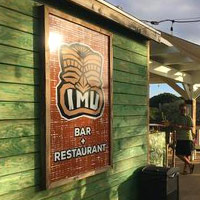 Casa di Amici
(808 742-1555) is on Nolo Road near Nihi Kai Villas. Piano music and great food in an intimate setting. Our waiter was quite amusing!
Roy's Poipu Bar and Grill
(808 742-5000) is in the Poipu Shopping Village. The atmosphere is pleasant though unremarkable, but the Pacific Rim cuisine is said to be the best in Poipu. Reservations are recommended.
Naniwa
(808 742-9988) offers Japanese cuisine at the Sheraton. An excellent selection of sushi, tempura and other Japanese food in an elegant atmosphere. Prices are on the high side, $25 and up.
Hanamaulu Cafe, Tea House, and Sushi Bar
(808 245-2511) has great atmosphere with rock gardens, koi pond, and tea rooms. O.K. so it's not quite on the south shore (it's in Hanamaulu), but it needed to be included becuase the Japanese and Chinese food is consistently excellent and well presented. Call ahead for hours and reserve a tea room. It's about half the price of Naniwa.
22° North (formerly Gaylord's)
(808 245-9593) at Kilohana, the Wilcox mansion, is just south of Lihue towards Poipu. This is a great place to stop for a fancy lunch after a morning excursion to the other side of the island. We've always had wonderful food here and it's a pretty courtyard setting. Kilohana is also of historical interest as the manager's house of the Grove Farm Plantation.
Brenneke's Beach Broiler
(808 742-7588) used to be one of our favorites. Over looking Poipu Beach Park, it still has a hip atmosphere appealing to a younger crowd. We think it's over priced for the quality; casual fare at fine dining prices. They still serve some pretty good seafood and mai tais.
Brick Oven Pizza
(808 332-8561) has very good pizza in Kalaheo. If you want to keep the price down a bit get your pizza to go. Closed on Mondays.
Sueoka's Snack Shop
(808 742-1112) on Koloa Road near Poipu Road, has fish burgers, terriaki burgers, and plate lunches. They also offer Lau Lau, good for those looking for an old time Hawaiian standard. You can eat here for around $5.00.
Koloa Fish Market
(808 742-6199) has a small but tasty display of take out items including lau lau, small packets of mixed shellfish, shrimp, and fish, delightfully seasoned, and steamed in ti leaves.
Taqueria Norteños
(808 742-7222) on Poipu Road has large portions of pretty decent (Americanized) Mexican food. They offer take out only and are closed on Wednesdays.
Puka Dogs
Found in the Poipu Shopping Village in a puka between two shops near the back. You might pick-up one if you are watching a hula show and don't have dinner plans elsewhere. The puka refers to an unusual bun with a hole which holds your choice of a vegetarian or regular dog and your choice of many exotic sauces and condiments. Yummy.
Papalani Gelato
In Poipu Shopping Village has a wide variety of standards and unusual tropical treats.
Lappert's Ice Cream
This place is really just for desert. They have renowned gourmet flavors, but are quite expensive.
© 1998-2023 KiahunaCondos.com - Celebrating our 25th year on the internet - Web Design by Website Sedona