Walking the Kiahuna Plantation grounds
The paths at Kiahuna are lined with beautiful torch ginger, birds of paradise, philodendron, monkey pod, heliconia, bananas, breadfruit, plumeria, ferns, hibiscus, bamboo, a number of palms, some rare, and many more.
The Historic Moir Home (now the Plantation Gardens Restaurant) has a beautiful orchid garden just below the bar and the famous cactus garden is unique to the island.
Although there are other famous gardens to visit on Kauai, the Kiahuna Plantation gardens are among the most beautiful.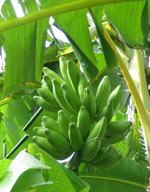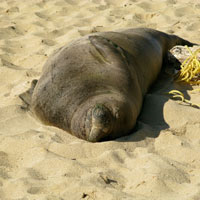 East from Kiahuna Plantation
Walk along the beach in front of the Waiohai Beach Club toward Nu Kumoi Point, a narrow sand strip jutting out at one end of Poipu Beach Park. At the other end of this small bay are interesting lava formations, tide pools and blow holes.
You can see some petroglyphs along the cliff walls at low tide. If you are feeling energetic you can continue walking along the frontage road by Brennecke Beach and follow the road up the hill and along past the many rentals and resorts, past the Embassy and finally find the short trail down to Shipwreck Beach. This is not a good swimming beach, but the surfers are pretty close in here, so it's a good place to watch. Stopping in for refreshments at the Hyatt should be in order by this time.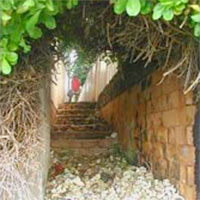 West from Kiahuna Plantation
Walking west from Kiahuna's beach will take you in front of the Sheraton and along the frontage road toward Koloa Landing.
This is an interesting snorkeling spot with larger schools of fish and turtles, though it can be quite a bit cloudier than at Kiahuna. They teach beginning scuba lessons here.
Continue walking over the bridge and go left down the path along Lawai Road. Take the first left into the small residential area. The houses are quite charming and there is one house that has a yard full of very beautiful Japanese bonsai. The owner was very happy to show us his talents with small plants and lava.
Going a bit further you will discover Baby Beach. There are two trail accesses to this secluded beach from the road which is lined with lovely homes and quaint rentals.
© 1998-2023 KiahunaCondos.com - Celebrating our 25th year on the internet - Web Design by Website Sedona