The most pictuesque and, amazingly, undeveloped beach on the island is only a 5 mile drive from Kiahuna Plantation. Driving east from Kiahuna go past the Hyatt 3 more miles past the golf course and stables. Turn right at the T intersection and drive on another mile to a large sand dune. Turn left here and find the parking area about a half mile further. Much of the road is bumpy and serves to keep too many from venturing down this way. It's well worth the trip though.
Secluded BeachYou'll find a two mile golden sand beach and brilliant turquoise waters at the foot of the 1500 ft. Haupu Ridge. It's a great spot for tidepooling, exploring and walking, but usually too rough for swimming. There is a 2.5 mile path all the way to Kawelikoa Point which leads across dunes, lava formations, tree covered cliffs, and past beautiful Haula Beach. Best make a day of exploring the wild beauty of this unspoiled paradise.
Another way to see this area is by horseback. The CJM Country Stables are about 2 miles past the Hyatt. You can take a 2 or 3 hour ride past secluded beaches and up along the Haupu Ridge. Also offered are a breakfast ride and a swim/beach/picnic ride. These trail rides are suitable for beginners. Make reservations at 808 742-6096.
Try the Mahaulepu Heritage Trail presented the the Poipu Beach Foundation.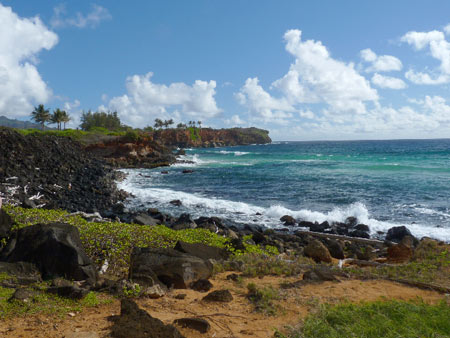 © 1998-2023 KiahunaCondos.com - Celebrating our 25th year on the internet - Web Design by Website Sedona